[WIP] Robo-Sushi, a Robotron-inspired shooter

Posted:
Tue Jun 23, 2015 7:55 pm
I'm working on a Robotron-inspired shooter. The story is that you're an escaped human in an underground sushi factory, where the robots make sushi out of people. You need to shoot robots to advance using the lift through levels in an attempt to get to ground level (quick heads up, this is an arcade survival game and there isn't an end!). Shoot all the grunts to activate the lift, and get as far as you can!
*NEW* v1.2 notes:
- New splash screen (thanks, Erico!)
- New .inf file to explain the controls better
- Grunt art and animation updated
- Added new enemy type: Sentries
- Added a paralysis status to player
- Moar UI tweaks
v1.1 notes:
- Added new enemy type: Rhinos
- Added strafe lock
- Added bombs
- Added shield for a free hit that recharges every level
- New splash screen
- New end screen
- Added new control system
- Adjusted enemy spawning to make it slower giving
- UI tweaks
You can try out the in-development version here:
https://www.dropbox.com/sh/z8jzp0f33nnf ... ulTSa?dl=0
Controls:

A (press) - Shoot
A (hold, release) - Bomb
B (press) - Strafe toggle
B (hold, release) - Teleport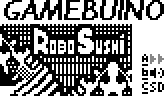 Bomb: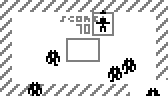 Strafe:
Teleport: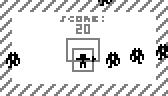 Level Up:
Everything: